Our Daily Dose: a new documentary by award winning filmmaker Jeremy Seifert
Running time 20:06 minutes
Environmental activist and filmmaker Jeremy Seifert is acclaimed for his films Dive (2010),  and GMO OMG (2013). GMO OMG, narrated by Dennis Kucinich, was honored as Best Documentary at the 24th Environmental Media Awards
Seifert has just released his latest documentary, Our Daily Dose, a short film about water fluoridation. Watch it here:
"Compelling and convincing, this film overturns the industry dogma on fluoride, exposing the toxic truth about what we put in our drinking water." – Lois Gibbs, Love Canal Hero and Nobel Peace Prize nominee
"My career has been about making people aware of harmful exposures and the deception that often accompanies those exposures. Drinking water fluoridation is harmful, we've been deceived to believe it is safe, and with new found knowledge we must all act now to stop it." – Erin Brockovich, environmental activist

"A much-needed clarion call on fluoride, the "miracle" drug whose harmful legacy we are only now beginning to understand. If the safety of your food and water is important to you, watch this film!" – Ed Begley Jr, actor and environmentalist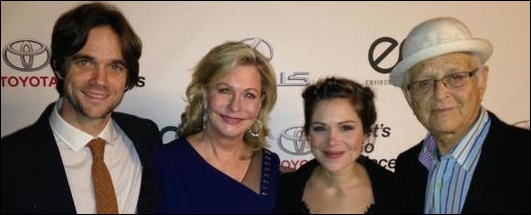 OUR DAILY DOSE features interviewees Kathleen M. Thiessen, PhD, Senior Scientist, Oak Ridge Center for Risk Analysis; the Reverend Dr. Gerald L. Durley, former Dean of Clark Atlanta University, former director of the Health Promotion Resource Center, Morehouse School of Medicine, and Senior Pastor Emeritus, Providence Missionary Baptist Church in Atlanta; attorney Douglas Ruley, specialist in appellate law, and the former director of the Environmental and Natural Resources Law Clinic at Vermont Law School, and Angela Hind, MD, specialist in functional medicine and molecular toxicology, and Seifert's medical advisor on Our Daily Dose.
On Thursday September 27, 2015, Sunrise Center and Clean Water Sonoma-Marin sponsored the Northern California preview showing of Our Daily Dose, followed by a live panel discussion with two of the interviewees in the film, Angela C. Hind, MD, and environmental attorney Douglas A. Ruley, JD. They were joined by panelists Michael Connett, JD, Director of Fluoride Action Network,  and Valerie Kanter, DMD, DDS, MS. Clean Water Sonoma-Marin Director, Dawna Gallagher-Stroeh facilitated the discussion. Watch the video: The Truth About Fluoridation.