SONOMA COUNTY WATER SOURCES AND SYSTEMS
SONOMA COUNTY WATER SOURCES: About half Sonoma County's potable water comes from groundwater accessed through wells. The balance originates in the Russian River, and is supplied through the Sonoma County Water Agency (SCWA). Recycled water use for agricultural and landscape irrigation is expanding to relieve demands on increasingly scarce potable water supplies.
SONOMA COUNTY WATER SYSTEMS: Private wells meet some residential and agricultural needs. Some communities, like Healdsburg, Sebastopol and Cloverdale, are supplied by municipal well fields. Some are fully supplied by SCWA. Others, like Rohnert Park and Sonoma, use a combination of municipal wells and water from SCWA.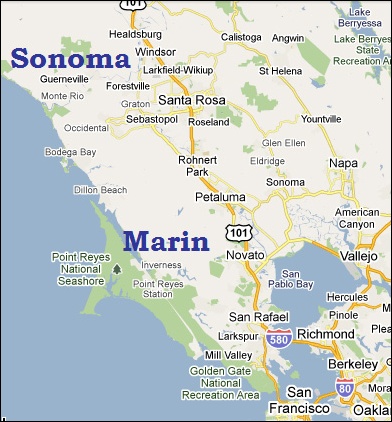 SONOMA & MARIN WATER SUPPLIERS
Bodega Bay Public Utility District
Bodega Water Company (City of Bodega)
Cal-American Water Company (Larkfield/Wikiup & Fulton)
City of Cloverdale Water Department
City of Cotati Public Utilities
Forestville Water District
Geyserville Water System
City of Healdsburg Public Utilities Department
Kenwood/Penngrove Water Company
Marin Municipal Water District
North Marin County Water District
Penngrove/Kenwood Water Company
City of Petaluma Public Utilities
City of Rohnert Park Public Works
Russian River Utility (Camp Meeker, Freestone, Hacienda, Jenner, Occidental)
City of Santa Rosa Public Utilities
Sea Ranch Water Company
City of Sebastopol (City limits only)
City of Sonoma Public Works
The California State Department of Health Services, Drinking Water Field Operations, monitors water systems. Santa Rosa office: 707-576-2145.
SOURCES:
Sonoma County Water Agency
Groundwater Management Plan FAQ
Russian River Utility
Cal State Dept of Health Services, Div. Drinking Water Programs