Russian River Utility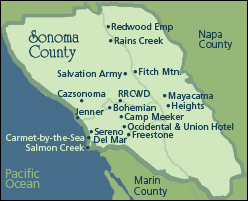 Russian River Utility (RRU) is a water and sewer management company serving Sonoma County public, mutual/private and commercial systems, providing both water treatment and distribution services, wastewater treatment and water reclamation services.
RRU also provides normal maintenance, monitoring, and preparation of reports for State and County requirements.
RRU owns the  private Sereno del Mar Water Company, and manages a number of other water systems, Camp Meeker Recreation & Park District, Carmet-by-the-Sea Mutual Water Company, Fitch Mountain Water System, Freestone Water District, Heights Mutual Water Company, Jenner Water System, Occidental Community Services District, Rains Creek Water District, Redwood Empire Sawmill, Russian River County Water System, Salmon Creek Water System, Union Hotel, and three reclaimed water systems, Bohemian Grove, Mayacama Golf Club and Salvation Army.
In addition, RRU staff provides vacation relief, construction assistance, and meter reading for the adjacent Forestville Water District. As with SCWA,  RRU management and staff are some of Sonoma County's unsung heroes.
Visit the RRU website, including the excellent Definitions page, to learn more about the Utility's work and the individual districts it serves.