HEALDSBURG



HEALDSBURG: NOTHING BUT QUESTIONS
WHY THE HEALDSBURG FLUORIDATION MORATORIUM INITIATIVE?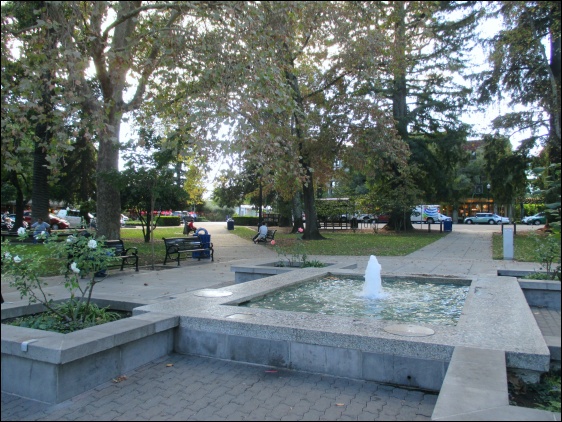 HEALDSBURG WATER
Healdsburg is the only city in Sonoma County that fluoridates its public water supply. In 1952 fluoridation was on the ballot in both Santa Rosa and in the City of Healdsburg; Santa Rosa rejected fluoridation while Healdsburg approved it. Healdsburg has been fluoridated since 1953, over 60 years.
IN 2014, FOR THE FIRST TIME SINCE 1952 City of Healdsburg voters had the opportunity to decide for themselves about fluoridation chemicals in City tapwater. Healdsburg voted to retain fluoridation by 2:1.
Only those registered within the City of Healdsburg were permitted to vote on the measure, but residents in nearby unincorporated areas, (including Fitch Mountain), that buy water from Healdsburg, will continue to receive fluoridated tapwater along with City residents.
Like the cities of Cloverdale and Sebastopol, the City of Healdsburg is not a Sonoma County Water Agency customer. Healdsburg water is supplied by three well fields, two located along the Russian River and one located along Dry Creek. The Public Works Department oversees potable water for the City of Healdsburg and its customers, as well as Healdsburg sewer and storm drain systems.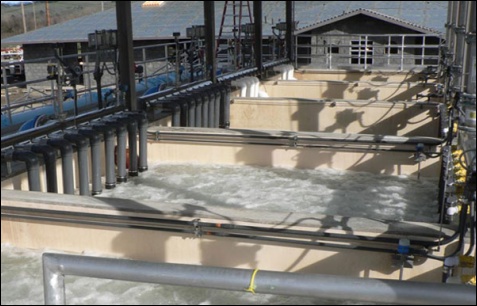 Healdsburg's state-of-the-art membrane bioreactor waste water treatment plant is the best in Sonoma County, but it does not remove fluoride. Vineyard owners and farmers who purchase Healdsburg treated recycled water receive full strength fluoridated water.
HEALDSBURG BALLOT MEASURE P

THE FLUORIDE-FREE HEALDSBURG BALLOT INITIATIVE
In 2014, local advocates of fluoride free water filed an initiative to stop fluoridating Healdsburg water, and qualified it for the November 4, 2014 ballot, offering Healdsburg voters the first opportunity to vote on water fluoridation since its initial approval in 1952.
In partnership with Clean Water Sonoma-Marin, Fluoride-Free Healdsburg gathered  over 1000 signatures, 867 certified, to revisit the issue of Healdsburg water fluoridation, more than enough signatures to allow a vote. More than enough to give voters a long-overdue choice about clean, fluoride-free water.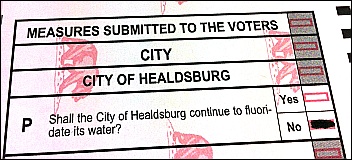 Although the ballot measure was the result of a citizen initiative,  the City Council scrapped the initiative language and exercized its prerogative to write the text of Ballot Measure P:  "Shall the City of Healdsburg continue to fluoridate its water?"
Ballot Measure P passed by a 2:1 vote. The Sonoma County Registrar of Voters reports these results:
YES to continuing water fluoridation in Healdsburg – 2184 votes
NO to continuing water fluoridation in Healdsburg – 1113 votes
According to The Press Democrat, the California Dental Association spent more than $45,000 to convince Healdsburg voters to continue fluoridation, an amount far outstripping the less than $3,000 raised by water fluoridation opponents. SOURCE: Clark Mason, "Healdsburg Voters Support Fluoride." The Press Democrat (11/4/2014)
Local Clean Water action group Fluoride-Free Healdsburg will continue its outreach and education.