Clean Water Sonoma-Marin & Clean Water Sonoma-Marin Charitable Trust
Working for fluoride-free water, and practical, nontoxic solutions to children's oral health challenges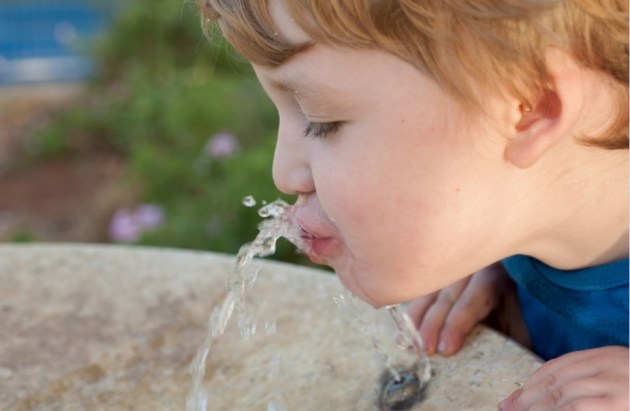 To learn more about protecting our children, please watch Our Daily Dose, a documentary by award-winning film maker Jeremy Seifert.

Grassroots Democracy in Action
JUMP TO UPDATE ON SONOMA COUNTY
JUMP TO UPDATE ON HEALDSBURG UPDATE
FEATURED VIDEOS

En español: La fluoración del agua – 3 videos de Telemundo Atlanta
Fluoruro en el Agua: Dr. Bill Osmunson (Subtítulos en español)
Fluoridation and the Environment by Howard Patterson
Our Daily Dose by Jeremy Seifert
Poisoned Horses by David Kennedy
FEATURED ARTICLES

Fluoride Neurotoxicity: US EPA listing and recent studies
Newsweek discusses: Does fluoridation prevent cavities?
A Critical Review of the Physiological Effects of Ingested Fluoride as a Public Health Intervention by Peckham and Awofeso (2014)
MMWD Infant Formula Advisory: open letter from Lauren Ayers
Healdsburg: Nothing But Questions by Larry Hanson
LEARN MORE ABOUT WATER FLUORIDATION ON OTHER WEBSITES

PETITION TO EPA ON FLUORIDE NEUROTOXICITY
On November 22, 2016, the International Academy of Oral Medicine & Toxicology (IAOMT), Fluoride Action Network (FAN), and others, hand delivered to the US Environmental Protection Agency (EPA) a petition, accompanied by over 2,500 pages of scientific documentation, to ban the use of fluoridation chemicals because of the neurotoxic risks of fluoride ingestion.
EPA's Toxic Substances Control Act (TSCA) gives EPA the authority and duty to prohibit the "particular use" of any chemical that presents an unreasonable risk to the general public or susceptible subpopulations, including the authority to prohibit drinking water additives.
Historically, when a chemical has evidence of neurotoxicity, for example lead, it has been banned. In 2014, EPA added fluoride to its short list of chemicals, including arsenic and lead, with scientific evidence of developmental neurotoxic harm to humans.
The Petition presents a comprehensive list of human, animal and cell studies on fluoride's neurotoxicity, 196 of the studies published since 2006 alone. The amount of fluoride from all sources, regularly consumed in fluoridated U.S. water districts, exceeds the levels that cause IQ loss. The scientific evidence meets TSCA requirements, more than enough for EPA to halt fluoridation of tap water.
The full petition is available here: http://fluoridealert.org/wp-content/uploads/epa-petition.pdf
From the date EPA received the petition, it had 90 days to respond.  February 27, 2017, EPA published its rejection the petition and, in the process, rejected EPA's its own policies on neurotoxic risk, which would ban the use of fluoridation chemicals.
UPDATE FROM STUART COOPER, FLUORIDE ACTION NETWORK (APRIL 25, 2017): It's official: the Fluoride Action Network – along with a coalition of environmental and public health groups – has filed a complaint in the U.S. District Court for the Northern District of California against the Environmental Protection Agency (EPA) in response to their denial of our petition under Section 21 of the Toxic Substances Control Act (TSCA) seeking a ban on water fluoridation (2017-04-18).  This may be the lawsuit we have all been waiting decades for.
According to FAN's attorney, Michael Connett, "this case will present the first time a court will consider the neurotoxicity of fluoride and the question of whether fluoridation presents an unreasonable risk under the Toxic Substances Control Act (TSCA).  And, in contrast to most other legal challenges of Agency actions, TSCA gives us the right to get the federal court to consider our evidence 'de novo'—meaning federal courts are to conduct their own independent review of the evidence without deference to the EPA's judgment."
Michael Connett on Fluoride & IQ Studies (running time 26:24 min)

Healdsburg Update

MESSAGE FROM MEASURE T CAMPAIGN COORDINATOR JEANNIE RUDD: Many thanks to all of you who supported Measure T and who worked for it so selflessly.  Those efforts on behalf of our community are rippling beyond today's horizon.
According to the The Sonoma County Registrar of Voters, Healdsburg voters rejected Measure T by  57 to 43 percent, in the process, rejecting the opportunity to learn if the sodium fluoride in their water is actually safe for everyone who drinks it.
Contrary to misrepresentations in the press, and by opposition leaders, Measure T was not for or against fluoridation to reduce tooth decay. Measure T was only about the safety of the specific fluoridation chemical used in Healdsburg. That safety is still a concern.
To learn more, please visit Safe Water Healdsburg online.
We're STILL asking . . . Is our water safe for every BODY who drinks it?
BALLOT UPDATE: The Sonoma County Registrar of Voters has posted the final 2016 vote count for the City of Healdsburg (completed precincts: 5 of 5).
2016 Measure T – OK Healdsburg fluoridation moratorium
Vote Count     Percentage
YES  2,433      43.0%
NO   3,223      57.0%
2014 Measure P – OK Healdsburg fluoridation
Vote Count     Percentage
YES   2650       64.4%
NO   1467        35.6%
Some Healdsburg voters remained undecided:
2016 Healdsburg ballots cast  = 5666 (based on Measure R totals)
2016 Ballots cast on Measure T = 5656
2014 Healdsburg ballots cast = 4220
2014 Ballots cast on Measure P = 4117
Comparison of 2014 and 2016 fluoridation ballot measures: Since 2014, the safe water position gained 966 votes and gained 7.4% points. The pro-fluoridation position gained only 573 votes and lost 7.4% points
Text of Measure T: Shall the City of Healdsburg institute a moratorium on water fluoridation in the city until such time as the manufacturer of the fluoridating chemical provides information regarding the identification of any contaminants in the fluoridating chemical batch, and a toxicological report and verification of safety for the fluoridating chemical?
 T is for Truth • T is for Transparency
 
Healdsburg City Clerk Maria Curiel and Campaign Coordinator Jeannie Rudd check a Healdsburg street location at the Fluoridation Moratorium Initiative signature turn-in, 5/11/2016.
UPDATE: FLUORIDATION IN SONOMA COUNTY,  CALIFORNIA & THE NATION



SONOMA COUNTY: The Sonoma County Board of Supervisors has postponed indefinitely any consideration of the Sonoma County Department of Health Services (DHS) proposal to fluoridate Sonoma County water (originally on the Board agenda 5/19/2015).
Sonoma County residents should be heartened because three Sonoma County cities, and a non-municipal water district,  have officially rejected fluoridation, which will probably will prevent future attempts to fluoridate through the Sonoma County Water Agency (SCWA).
SANTA ROSA: However, at its second annual Dental Health Summit, September 25, 2016, the Sonoma County Department of Public Health declared a renewed focus on fluoridating Santa Rosa. Let's keep our eyes open.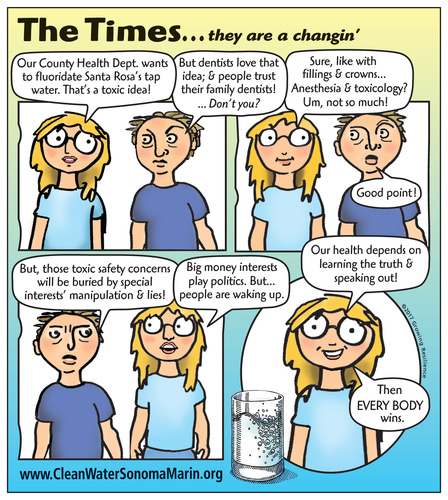 CALIFORNIA: Jay Kumar, California's new Director of Dental Health, was instrumental in setting up a pilot program, now in effect in New York State, in which millions of dollars in Medicaid funds now support water fluoridation. The program, which siphons off scarce funds from effective dental health care, is a first step in an ambitious plan to use Medicaid funds to pay for water fluoridation infrastructure, engineering, and chemicals costs nationwide.  Dr. Kumar is in discussion with public health officials and key legislators, about a similar program for California. For more information, call Dawna Gallagher-Stroeh at 707-547-7006 or contact us.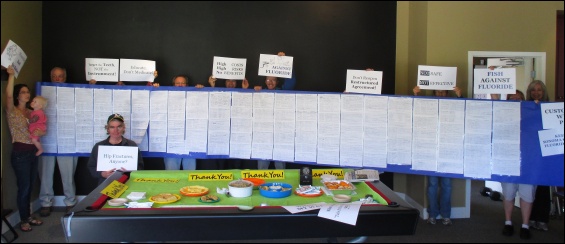 Protect our environment. Protect our children.

If you can, please make a tax-deductible donation with a credit or debit card, to Clean Water Sonoma-Marin Charitable Trust

now.

PayPal membership is NOT necessary.





Or donate by writing a check:
Clean Water Sonoma-Marin Charitable Trust
PO Box 2248
Rohnert Park, CA 94927
Questions? Call Dawna Gallagher-Stroeh: 707-547-7006
Thank you!
Marin County

Marin Municipal Water District's Cataract Falls property, safe from glyphosate defoliation thanks to the MMWD Board's use of the Precautionary Principle.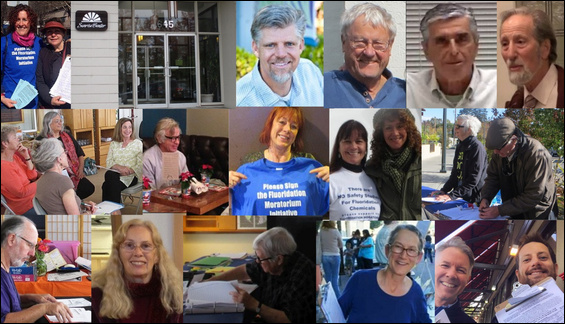 MMWD UPDATE FROM CWSM EXECUTIVE DIRECTOR DAWNA GALLAGHER-STROEH
Many, many thanks to MMWD Fluoridation Moratorium Initiative Sponsors, Dr. Brian J. Smith, and Dr. Laurence Rose, to all of you who signed the initiative petition, donated, shared information, labored over precinct lists, and collected signatures to support clean fluoride-free water in Marin! You are awesome!

Because of concerns about the health effects of fluoridation chemicals on vulnerable populations dependent on District water, the lack of specific information about levels of contaminants in each batch, and the need for reassurance that fluoridation chemical manufacturers stand behind the safety of their product when used as directed, over 8000 District voters signed the MMWD Fluoridation Moratorium Initiative petition. The initiative failed to qualify for the ballot, but those legitimate concerns remain.
Everyone in the Marin Municipal Water District, whether or not he or she believes in water fluoridation as an oral health intervention, has a stake in fluoridation safety.
We are continuing to attend MMWD Board meetings 1) to request that water bills include a parents' advisory about the risks of using fluoridated water to reconstitute baby formula, 2) to encourage MMWD Board members to request the safety studies themselves, and 3) to update the Board on the latest studies as they are published.
Thank you again!
DAWNA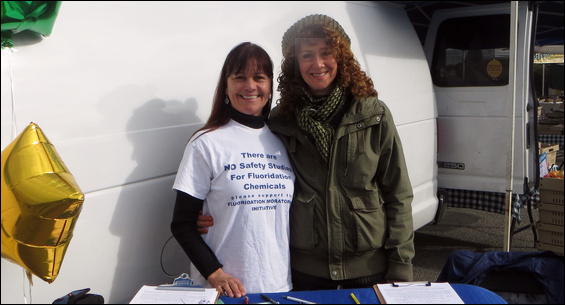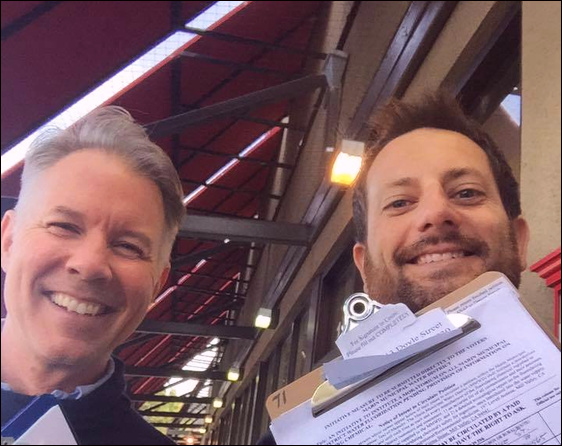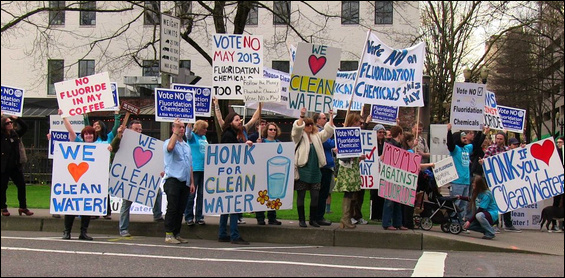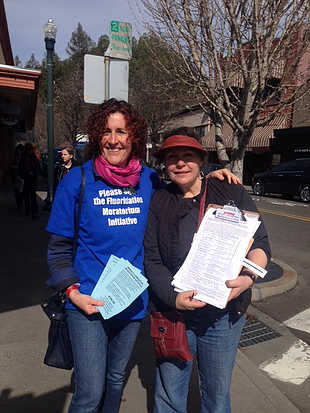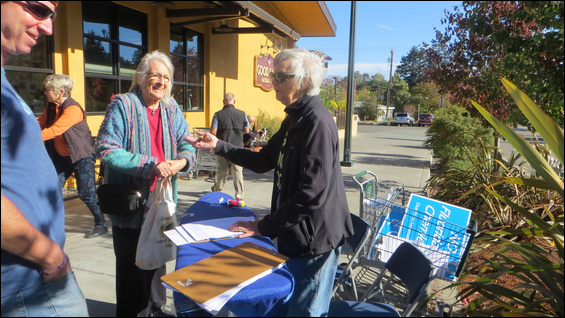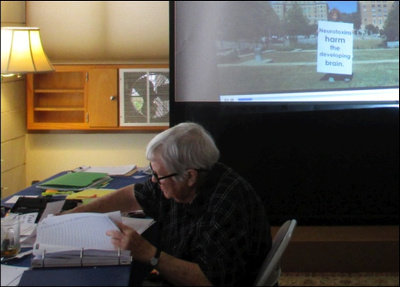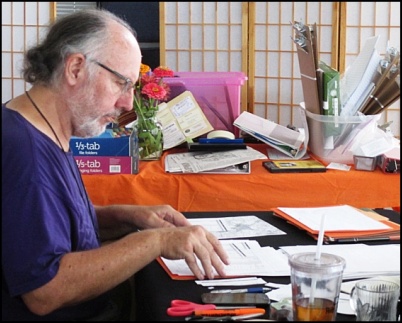 1. Donation checks made out to CWSM Charitable Trust are tax deductible. Please ask friends and neighbors to make a tax deductible donation now.
Just click on the big green button, or
write a check to
CWSM Charitable Trust
PO Box 151538
San Rafael, CA 94915-2402
2. To  help with lobbying our Legislators in Sacramento, and Washington DC,

please make a non-tax deductible donation to Clean Water Sonoma-Marin, a 501c4 nonprofit.



To donate with a credit or debit card, just click the General Fund button below. PayPal membership is NOT required.
This is everyone's water, and it will be everyone's win in the end!
Thank you!
DAWNA
Dawna Gallagher-Stroeh / 415-858-2402