Clean Water Sonoma-Marin & Clean Water Sonoma-Marin Charitable Trust:

Grassroots Democracy in Action!
JUMP TO MARIN COUNTY ACTION: UPDATE ON THE MMWD FLUORIDATION MORATORIUM INITIATIVE
JUMP TO SONOMA COUNTY CALENDAR & ACTION, INCLUDING UPDATE ON THE HEALDSBURG FLUORIDATION MORATORIUM INITIATIVE

Marin Municipal Water District's Cataract Falls property, safe from glyphosate defoliation thanks to the MMWD Board's use of the Precautionary Principle.
FEATURED VIDEOS

En español: 3 videos de Telemundo Atlanta sobre la fluoración del agua
Fluoruro en el Agua: Dr. Bill Osmunson (Subtítulos en español)
Fluoridation and the Environment by Howard Patterson
Our Daily Dose by Jeremy Seifert
Poisoned Horses by David Kennedy
FEATURED ARTICLES

Fluoride Neurotoxicity: US EPA listing and recent studies
MMWD Fluoridation Moratorium Initiative
Newsweek discusses: Does fluoridation prevent cavities?
A Critical Review of the Physiological Effects of Ingested Fluoride as a Public Health Intervention by Peckham and Awofeso (2014)
MMWD Infant Formula Advisory: open letter from Lauren Ayers
Healdsburg: Nothing But Questions by Larry Hanson
CLICK TO LEARN MORE ABOUT OTHER WATER FLUORIDATION WEBSITES

Marin County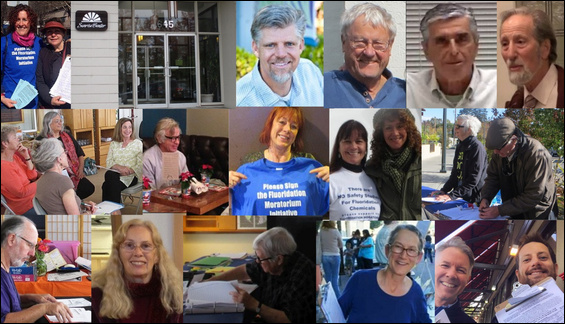 May 9, 2016 was our official Marin signature turn in!
A MESSAGE FROM CWSM EXECUTIVE DIRECTOR DAWNA GALLAGHER-STROEH
 Many, many thanks to MMWD Fluoridation Moratorium Initiative Sponsors, Dr. Brian J. Smith, and Dr. Laurence Rose, to all of you who signed the initiative petition, donated, shared information, labored over precinct lists, and collected signatures to support clean fluoride-free water in Marin!        DAWNA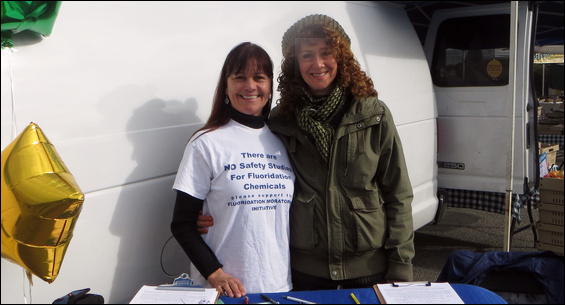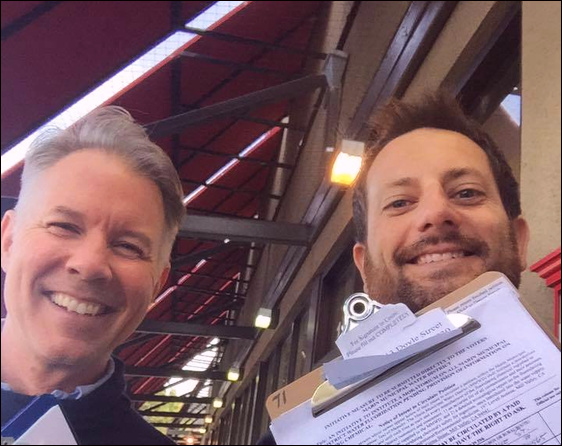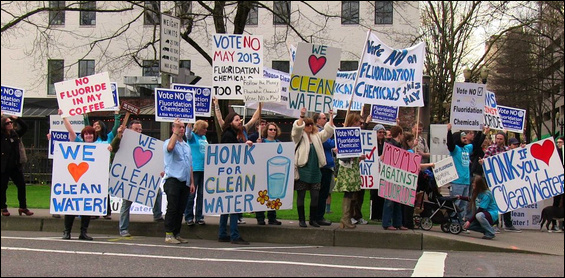 Donation checks made out to CWSM Charitable Trust are tax deductible. Please ask friends and neighbors to make a tax deductible donation now.
Just click on the big green button, or
write a check to
CWSM Charitable Trust
PO Box 151538
San Rafael, CA 94915-2402
This is everyone's water, and it will be everyone's win in the end!
Thank you!
DAWNA
Dawna Gallagher-Stroeh / 415-858-2402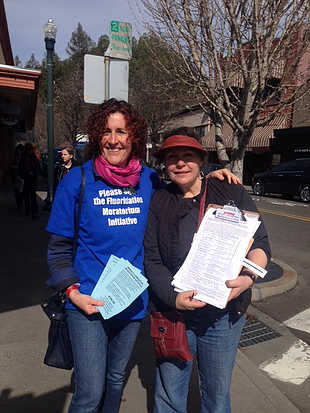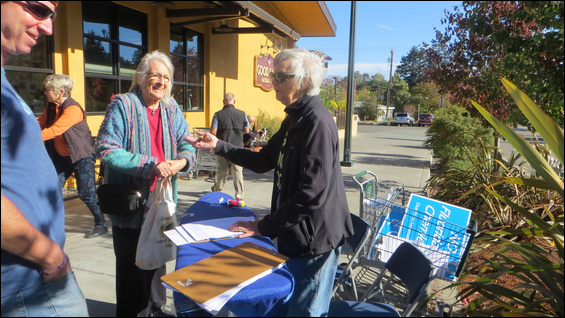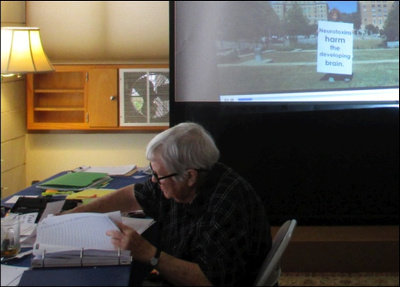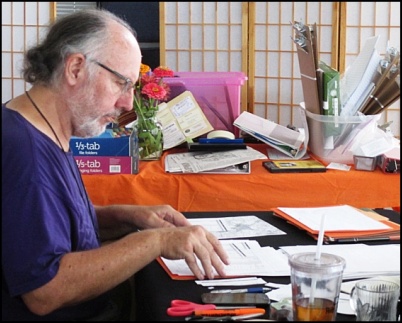 WHAT'S HAPPENING: A RECAP
Is our  tap water safe for all of us to drink? Marin Municipal Water District (MMWD) consumers want to know.
After years of requests, MMWD hasn't provided, or even sought, verification of safety for all consumers of the fluoridated water it has been supplying customers for over 40 years. That's the reason for the 2016 MMWD Fluoridation Moratorium Initiative, sponsored by Mill Valley dentist Brian J. Smith, DDS, and Mill Valley physician, Lawrence Rose, M.D., M.P.H., Occupational/Environmental Medicine, former Chief of the Medical Unit of Cal/OSHA .
The US EPA lists fluoride as one of just 22 chemicals with significant documented evidence of developmental neurotoxicity in humans, including detrimental effects on learning and memory (Mundy, et al., 2015).

For over 60 years U.S. water fluoridation policy has coasted on undocumented assertions and hearsay.
The Fluoridation Moratorium Initiative calls for an immediate moratorium on MMWD fluoridation, to halt fluoridation until the manufacturer of MMWD's fluoridating chemical provides District customers with specific information about contaminants in each batch of the chemical, the chemical's health effects, and the manufacturer's verification of safety of District water for ingestion by all consumers. That means verification of safety for ALL consumers, regardless of age, size, nutrition, health condition, or ethnicity.
Tax-deductible donations are another way to help
1. Please make a tax-deductible contribution to Clean Water Sonoma-Marin Charitable Trust, a 501c3 nonprofit. Help qualify the Fluoridation Moritorium Initiatives for the 2016 ballots  in Marin and Sonoma Counties to halt fluoridation in the Marin Municipal Water District (MMWD), and in Healdsburg. Protect Santa Rosa, Petaluma, and Novato from the California Fluoridation Mandate.
Now is the time to let friends and relatives know they can help keep our water fluoride free by making a donation.
Tax deductible donations are easy to make! To donate to CWSM Charitable Trust with a credit or debit card, just click the Tax Deductible button below (PayPal membership is not required).
Or write a check to
to CWSM Charitable Trust
and mail to:
Clean Water Sonoma-Marin
PO Box 151538
San Rafael, CA 94915-2402
2. To  help with lobbying our Legislators in Sacramento, and to cover specific election-related expenses after the Fluoridation Moratorium Initiatives have qualified for the ballot in Marin and in Healdsburg, please make a non-tax deductible donation to Clean Water Sonoma-Marin, a 501c4 nonprofit.

To donate with a credit or debit card, just click the General Fund button below. PayPal membership is NOT required.
Thank you!

More from Dawna about what's happening to halt water fluoridation in Marin, and why our help is needed NOW:

In 2016 we will continue to attend MMWD Board meetings 1) to request that water bills include a parents' advisory about the risks of using fluoridated water to reconstitute baby formula, as well as 2) to update the Board on the latest studies as they are published.
Healdsburg in Sonoma County: Grassroots Democracy in Action!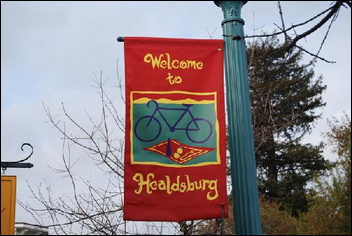 Campaign Coordinator Jeannie Rudd's update  on the Healdsburg Fluoridation Moratorium Initiative

Dear friends,
To qualify the Healdsburg Fluoridation Moratorium Initiative for the November ballot, Fluoride-Free Healdsburg's goal was 605 signatures. Through the amazing efforts of volunteers, 885 were collected!
Wednesday May 11th, 2014, Healdsburg City Clerk Maria Curiel received the signatures, then sat down with her assistant to check that signers live within the city limits, while several of us volunteers helped find street addresses on a large map of the city.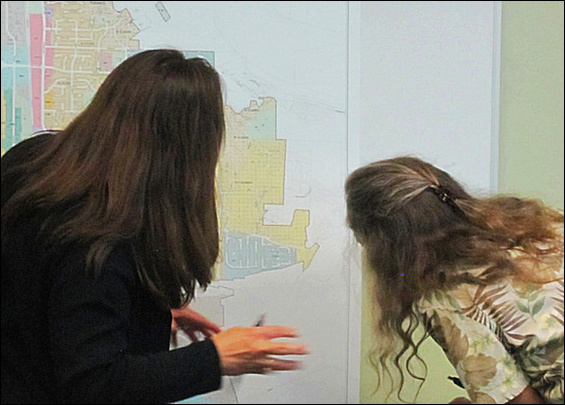 Like the signature gathering process, the signature turn-in was a wonderful experience in participatory democracy!
Next, Maria Curiel delivered the signatures to the Sonoma County Registrar of Voters for verification. The County has 30 days to provide the official count of verified signatures.
In an expression of her confidence that the initiative has enough signatures to qualify for the ballot, Ms. Curiel has already scheduled the presentation of the Fluoridation Moratorium Initiative on the agenda of the second City Council meeting in June.
Information about what's next, coming soon.
Many thanks to all for your support!
Jeannie Rudd, Campaign Coordinator
Healdsburg Fluoridation Moratorium Initiative
707-542-1723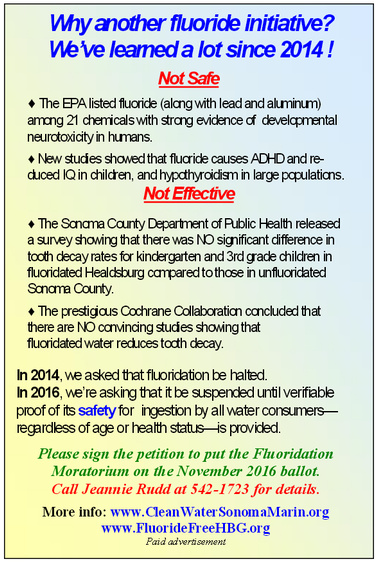 Recent studies show that fluoride in water may cause reduced IQ in children, hypothyroidism, and some cancers, and that it might not be effective in reducing tooth decay.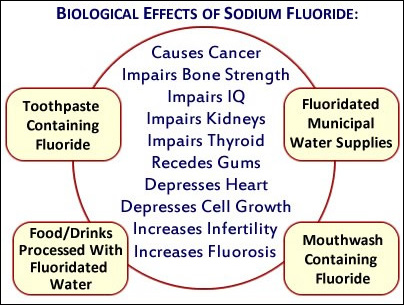 In fact, in 2014 the County Health Department did a small survey and found no significant difference in children's children's tooth decay rates between fluoridated Healdsburg and the rest of unfluoridated Sonoma County.
ADA Spokesman Howard Pollick says babies under 6 months old should not receive any fluoride, and baby formula should not be mixed with fluoridated water.
Fluoridation chemical certification deals only with average concentrations per contaminant. "However…each raw additive batch supplied to water facilities does not come labeled with concentrations per contaminant. This omission distorts exposure profiles and the risks associated with accidents and routine use." – From "A new perspective on metals and other contaminants in fluoridation chemicals" (Mullenix 2014).
That's why the Initiative calls for a moratorium on water fluoridation until the manufacturer of Healdsburg's fluoridating chemical provides verification of its safety for ingestion by all consumers.
Call Jeannie Rudd to learn how you can help (707-542-1723), or contact Brian at Fluoride-Free Healdsburg. Thank you!
Other Clean Water Sonoma County  Updates

UPDATE & ACTION: THE SONOMA COUNTY BOARD OF SUPERVISORS
At this time, the Sonoma County Board of Supervisors has decided to postpone indefinitely any consideration of  the Sonoma County Department of Health Services (DHS)proposal to fluoridate Sonoma County water (originally on the Board agenda 5/19/2015). For more information, call Dawna Gallagher-Stroeh at 707-547-7006 or contact us.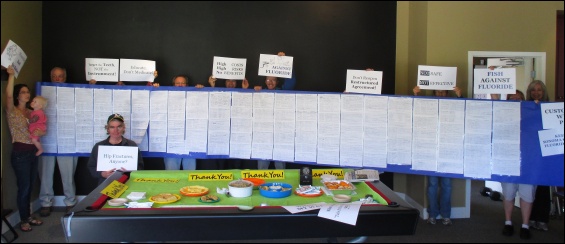 Protect our environment. Protect our children. If you can, please make a tax-deductible donation with a credit or debit card, to Clean Water Sonoma-Marin Charitable Trust now. PayPal membership is NOT necessary.



Or donate by writing a check:
Clean Water Sonoma-Marin Charitable Trust
PO Box 2248
Rohnert Park, CA 94927
Questions? Call Dawna Gallagher-Stroeh: 707-547-7006
Thank you!