About Sonoma County
2013 CIVIL GRAND JURY REPORT ON FLUORIDATION
SONOMA COUNTY WATER AGENCY (SCWA)
RUSSIAN RIVER & THE SONOMA COUNTY WATER AGENCY
SALMON, FLUORIDATION & THE RUSSIAN RIVER BIOLOGICAL OPINION
RUSSIAN RIVER UTILITY
SONOMA COUNTY WATER SOURCES AND SYSTEMS
COTATI
SEBASTOPOL
CITY OF SONOMA
HEALDSBURG
HEALDSBURG MOVING FORWARD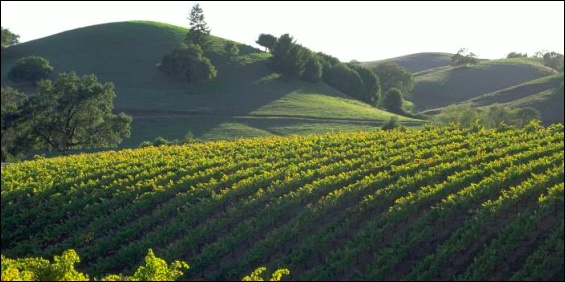 LUTHER BURBANK & SONOMA COUNTY
Horticulturalist Luther Burbank's father died when he was 21 years old, and Burbank used his inheritance to buy a 17-acre plot of land near his childhood home in Massachusetts. There, he developed the Burbank potato. In his mid 20s, Burbank sold the rights to the Burbank potato for $150 and used the money to travel to Santa Rosa, in the heart of Northern California's Sonoma County. Luther Burbank lived in Santa Rosa for over 50 years, and said of Sonoma County, "I firmly believe, from what I have seen, that this is the chosen spot of all this earth as far as Nature is concerned."
Most Sonoma County residents would agree. Sonoma County's microclimates are temperate, its land is fertile and, even in these years of drought, Sonoma County is blessed by the Russian River and its watershed.
Sonoma County encompasses more than 1 million acres of land and water, rich in scenic beauty, mostly open space and agricultural land, with an array of parks, recreational facilities, campsites and lakes. The county has approximately 123,070 acres of surface water area, of which 8,580 are bay waters.
Nestled in the heart of Northern California Wine Country, Sonoma County is a wonderful place to visit, and an even better place to live, because residents are great hosts, but even better neighbors.
Sonoma County residents are a hard working, environmentally aware, politically engaged population, with a strong pre-Anglo Mexican heritage, and a 25% Latino population today.
The Sonoma County economy is based on tourism, which generates over $1.3 billion annually, and on agriculture, which generated $653.2 million in 2009, with wine grapes accounting for $416.5 million, and livestock and poultry products, $91.1 million. Tourism and agriculture: These pillars of the Sonoma County economy are challenged both by worsening water shortages, and by the ill-considered proposal to fluoridate Sonoma County's water.
Sonoma County Government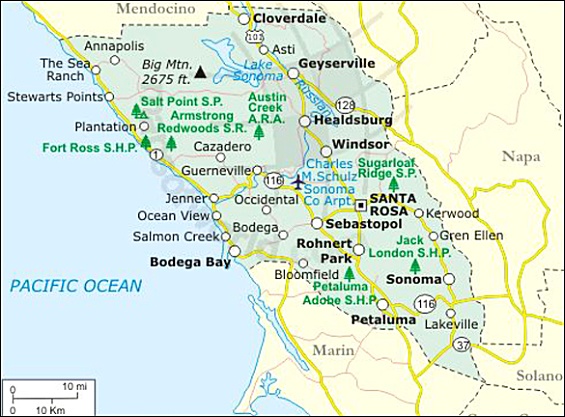 THE SONOMA COUNTY BOARD OF SUPERVISORS
 According to the 2010 Census, Sonoma County has 163,436 residents. The County is a representative democracy, divided into five districts, roughly equal in population. Each district elects a Supervisor to a four year term on Sonoma County's governing body, the Board of Supervisors.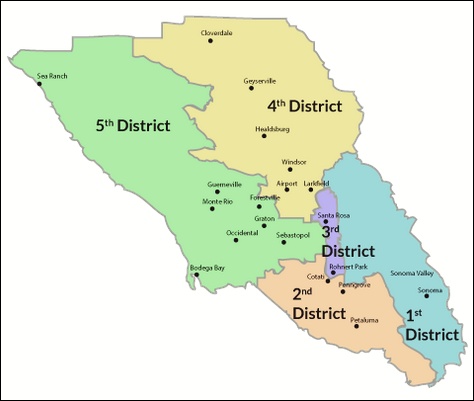 The 2015 Sonoma County Supervisors
: District 1 – Susan Gorin (Chair), District 2 – David Rabbitt, District 3 – Shirlee Zane, District 4 – James Gore, District 5 – Efren Carillo.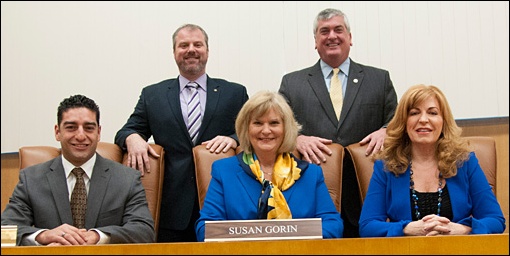 The Board of Supervisors sets priorities for Sonoma County, establishing growth and development policies, overseeing the departments and agencies that provide county-wide services, including health and welfare programs, public safety programs, and elections, and municipal services like law enforcement and fire protection in unincorporated areas.

County Administrator
Veronica Ferguson
was appointed by the Board of Supervisors to manage, direct and coordinate the operations of all county departments, prepare the county budget, and make recommendations to the Board to promote economy and efficiency within the county. To see Ms. Ferguson in action is to begin to appreciate how fortunate we are to have her.
Sonoma County Water
SONOMA COUNTY WATER SOURCES
:
About half Sonoma County's potable water comes from groundwater accessed through wells. The balance comes from the Russian River, supplied through the Sonoma County Water Agency (SCWA). Recycled water use for agricultural and landscape irrigation is expanding, relieving demands on increasingly scarce potable water supplies.
TO LEARN ABOUT RUSSIAN RIVER,  SEE THESE ARTICLES:
Salmon, Fluoridation & the Russian River Biological Opinion
SONOMA COUNTY WATER SYSTEMS
:
Private wells meet some residential and agricultural needs. Some communities, like Healdsburg, Sebastopol and Cloverdale, are supplied by municipal well fields. The Sonoma County Water Agency (SCWA) provides all the water for some communities. Others, like Rohnert Park, use a combination of municipal wells and water from SCWA.
RUSSIAN RIVER UTILITY: RRU is a water and sewer management company serving Sonoma County regions and communities without full service public utilities, and not served by SCWA, including public, mutual/private and commercial systems, providing both water treatment and distribution services, wastewater treatment and water reclamation services.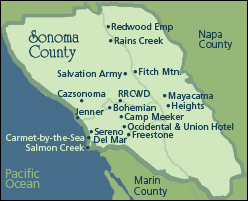 SONOMA COUNTY WATER AGENCY: SCWA is a separate legal entity created by State law (1949), with separate sources of funding from County departments, providing water supply and wastewater services, and flood protection, and managing a proactive stream maintenance program throughout Sonoma County.
Daily direction and overall coordination of SCWA is in the hands of the Board of Supervisors which acts as SCWA Board of Directors. The General Manager of the Agency reports directly to the Board of Supervisors. 
SCWA is the wholesale supplier of water for eight retail contractors, including the City of Santa Rosa, City of Petaluma, North Marin Water District, Valley of the Moon Water District, City of Sonoma, City of Cotati, Forestville County Water District, and the City of Rohnert Park. In all, SCWA has 156 active connections.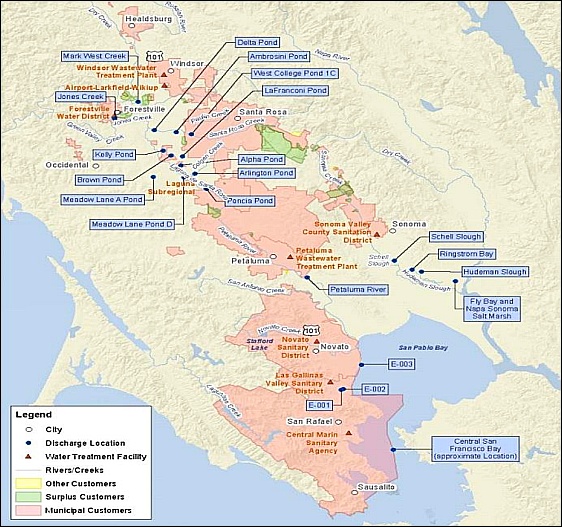 SCWA service area. – From Cardno Entrix Draft Aquatic Assessment (SC DHS 2014)