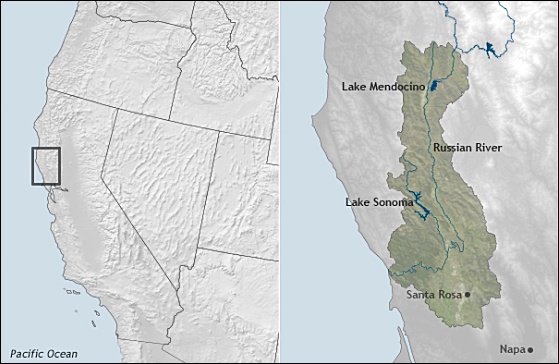 Sonoma County Water Agency
Russian River Utility
Salmon, Fluoridation & the Russian River Biological Opinion
RUSSIAN RIVER & THE SONOMA COUNTY WATER AGENCY



From "Who Rules California's Russian River? Part 1″ by Caitlyn Kennedy / NOAA Climate.gov / March 31, 2014
RUSSIAN RIVER: California's Russian River begins in Mendocino County and ends at the Pacific Ocean in Sonoma County, draining a 1,485-square-mile watershed. At many points along its winding curves, miles and miles of grapevines extend out from the riverbank and across the rolling landscape. Salmon spawn in its waters. There are two major dams in the watershed, the Coyote Valley and Warm Springs dams, creating Lake Mendocino and Lake Sonoma.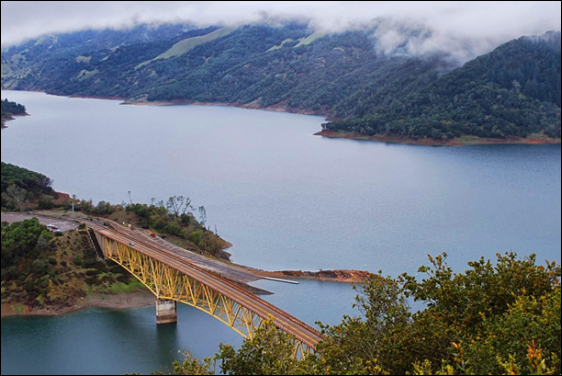 Sonoma County Water Agency: As Chief Engineer for the Sonoma County Water Agency (SCWA), Jay Jasperse always has one finger on the pulse of the river—a 110-mile long artery that winds through Sonoma and Mendocino counties. It's the water agency's job to keep the region's water system in balance so that everyone and everything gets its share, even when drought, floods, or frost strikes the region.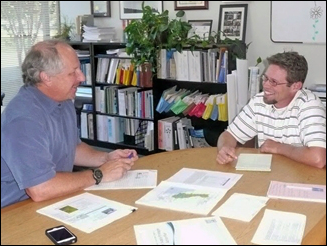 The Sonoma County Water Agency's main job is to provide drinking water to about 600,000 people living and working in California's Sonoma and Marin counties. Working with the U.S. Army Corps of Engineers, SCWA helps operate the Coyote Valley and Warm Springs dams. The agency also supports local stormwater and wastewater systems that are outside the jurisdiction of local communities.
But since water is vital for many facets of life in Sonoma County, the Sonoma County Water Agency is involved in a range of projects all closely tied to maintaining a healthy and sustainable river: carbon mitigation and clean energy generation projects aimed at improving the water system's energy efficiency; water conservation initiatives; fisheries research and monitoring activities; and serving the needs of the region's water-dependent industries, such as farmers, winegrowers, and other business owners.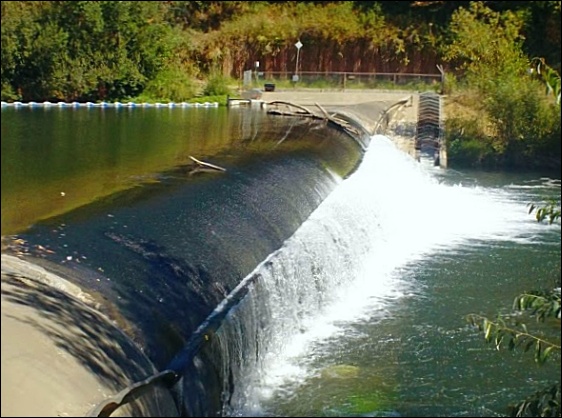 The Sonoma County Water Agency operates an inflatable dam on the Russian River to increase production capacity during peak demand months. Permanent fish ladders on the side of the river allow fish swim past the barrier when it is inflated.
SONOMA COUNTY CLIMATE: Jasperse drives past miles of vineyards every day on his scenic commute to the Sonoma County Water Agency office in Santa Rosa, California. He explains that the local climate is similar to that of Europe's Mediterranean region, which is famous for its winemaking.
"Typically we have warm, very dry summers and cool, wet winters. Most of our rainfall occurs from November through May, and it's very unusual if we get any rainfall in other parts of the year. Because it's all concentrated during the winter, it takes a lot of planning to make sure we have enough water in storage to last us through the year."
During the dry period of the year, SCWA turns to its two major reservoirs: Lake Mendocino and Lake Sonoma. The Agency releases water from the reservoirs throughout the summer to ensure that they meet the minimum streamflow in the river that is mandated by the California State Water Resources Control Board.
DROUGHT: Sonoma County is currently experiencing its driest period on record. Water levels in Lake Mendocino—the smaller and more vulnerable of the region's two major reservoirs—have dropped to near historic lows. This reservoir provides water to several communities and farmers in Mendocino and Sonoma Counties. If relief does not come, Californians will face significant cutbacks in water use to prevent the lake from going dry in the fall.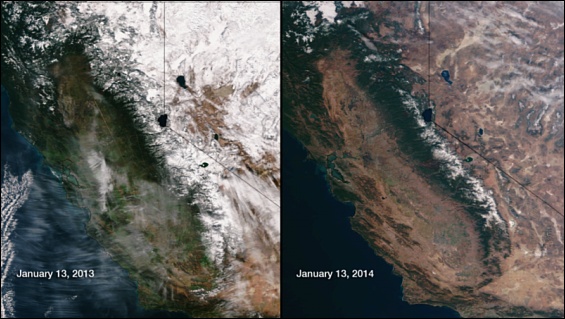 ["The number one issue of the day is securing and supporting our water supply. As it looks likely that we will be entering our 4th year of drought conditions – despite the atmospheric river that wreaked havoc on our region in mid December – we must remain mindful of our collective conservation efforts." Sonoma County Supervisor Efren Carillo, "2015 State of the County", Sonoma County Gazette (February 1, 2015).]
Water shortages during dry years affect the interests of both winegrowers and conservationists in the region, and they leave water managers trying to strike a careful balance.
Jasperse and his colleagues at the water agency are turning to science as a way to find compromise when water conflicts arise. It won't be easy, though. Caitlyn Kennedy concludes, "While three protected species of fish may have a lawful claim to the Russian River, the winegrowers and their vines rule the land (Links to Caitlin Kennedy's two-part series, below).
However great the challenge to balance claims on finite Russian River water, both Sonoma County winegrowers and the stewards of Sonoma County salmon would benefit from making common cause to keep SCWA recycled and wastewater fluoride free.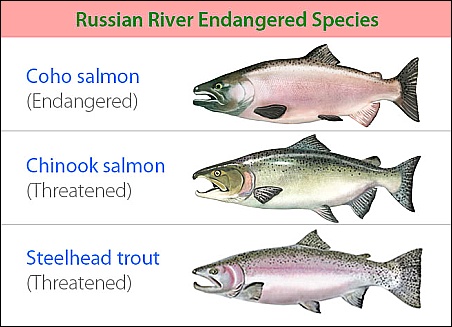 READ Caitlyn Kennedy's articles on balancing climate concerns and the water needs of Sonoma County's environmentalists and its wine growers:
Part 1: "Who Rules California's Russian River?"
"Who has rightful claim to California's Russian River? Federal law may protect the river habitat in the name of endangered fish, but on land, grapevines are king. This article is the first in a two-part series about how NOAA scientists are working with partners at other agencies and universities to help find compromise amid local tensions over water supplies. Part 1 describes scientists' efforts to understand and predict not just the river on land, but its counterpart in the sky—a river that delivers extreme, sometimes drought-busting storms into the heart of California's wine country. Sometimes these storms can be a blessing. And at other times, a curse. Part 2 [as yet unpublished] will explore how better forecasting of and strategies for coping with extreme events could lessen water conflicts along the Russian River."
Part 2: "Pairing Wine with Salmon: climate lessons from California"
"In the midst of a drought in 2008, biologists discovered dead Coho and steelhead trout in a tributary of the Russian River. When the dust settled, the focus turned to how winegrowers and other water users could reduce their impact. The event provided the parties involved—winegrowers, conservationists, and the water agency—an opportunity to find common ground in the realm of science."