Water Fluoridation and Sonoma County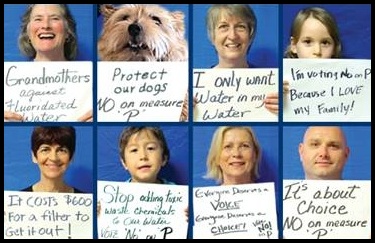 Were you old enough to vote in 1952? That's the year of first  big push to fluoridate Sonoma County water. Do you remember the 1952 campaign? In those days, with a California State mandate over 40 years away, fluoridation could be imposed only  city by city.
Sonoma County residents rejected fluoridation everywhere except for the City of  Healdsburg, which has had continuously fluoridated tap water since 1953, and also supplies fluoridated water to nearby Fitch Mountain.
If the years of groundwork laid  by  the Sonoma County Department of Health Services (DHS) are successful, all the water supplied by the Sonoma County Water Agency (SCWA) will be fluoridated.
On February 26 2013, after a report on Sonoma County oral health by the Sonoma County Board of Supervisors voted to explore what Brett Wilkison of The Press Democrat  described as "one of its most hot-button projects: a bid to introduce fluoride to most of the county's drinking water to improve dental health."
Pam Jeane, an assistant general manager at the Water Agency, called the project's cost "significant"…
The potential impact on ratepayers is unknown. Once water fluoridation is implemented, State law requires that utilities districts approve rate hikes to cover the additional costs of water fluoridation.  At least one Water Agency customer — the North Marin Water District (NMWD) serving the Novato area — contends state law forbids such costs being passed on to ratepayers, and could NMWD could challenge fluoridation, partly on those grounds, after approval and before implementation.
The Board of Supervisors on Tuesday is set to authorize additional financial analysis and engineering studies, at a cost of about $103,000…The latest interim step has reignited the decades-long local debate among supporters and opponents of water fluoridation for dental health…
Fluoride is a chemical compound and was introduced to U.S. drinking water nearly 70 years ago. About three-quarters of the nation's population served by public water systems — or about 196 million people — are now receiving fluoridated water…
The measure is backed by the Centers for Disease Control and Prevention, the surgeon general, the World Health Organization and the American Dental Association…But opponents of the county's proposal continue to raise concerns about the health and environmental implications of fluoridated water…
A new county report concludes that move, though still in its study phase, would be feasible, although it could also be complex and expensive…The new report could bring fiscal watchdogs into the mix.
Based on preliminary estimates, the project could cost up to $8.5 million in capital upgrades to the county's central water system, plus ongoing upkeep starting at $973,000 a year, the report found…
The project would affect three quarters of the county…More than 50,000 Novato-area residents served by the county Water Agency also would get fluoridated water for the first time.
The American Dental Association first recommended community fluoridation in 1949.
JADA p.556