Fairfax
FAIRFAX WATER
Fairfax water is supplied by the Marin County Municipal Water District (MMWD). Its water has been fluoridated with hydrofluorosilicic acid since 1973. In all that time, no scientific studies have been provided that verify the water's safety for ingestion by all consumers.
To get the safety information we need, to find out if the information even exists, please sign the MMWD Fluoridation Moratorium Initiative petition at GOOD EARTH MARKET. We're there every Saturday, 9:00 am – 3:30 pm. Find us in front of the market at 720 Center Boulevard in Fairfax.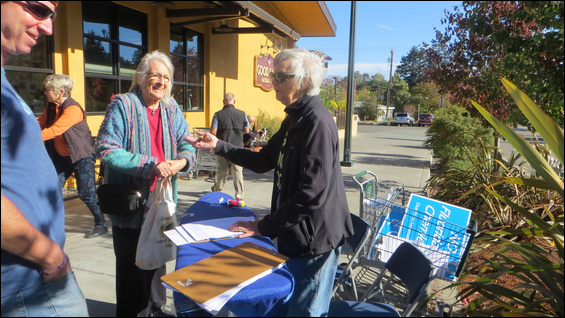 The Town of Fairfax is governed by five Town Council Members who are elected at large. The Town Council hires a Town Manager to carry out their policies and manage the Town organization on a daily basis. The Council's actions are guided by a vision statement which they adopted in May of 2009.
Proposals for action can be introduced by residents, staff, and the Town Council Members themselves. At Council meetings, residents and staff provide input, and report on agenda items,  which the Council discusses, then approves, modifies or rejects. Council decisions are implemented by the Town Manager and staff members.
Town of Fairfax: 142 Bolinas Rd. | Fairfax, California 94930 | Phone: (415) 453-1584 | Fax: (415) 453-1618 Hours: 8:30 a.m. – 12:00 noon; 1:00 – 5:00 p.m., Mondays through Thursdays.