Fluoridation Advisory Committee
When the Sonoma County Department of Health Services approached the Board of Supervisors with a proposal to fluoridate most of Sonoma County's municipal water by adding fluoridation chemicals "at the top," to water supplied the Sonoma County Water Agency, the Board of Supervisors requested more information on which to base its decision.
---
OCTOBER 21, 2014
FAC HEARS PRESENTATION ON THE DRAFT EIR FOR SONOMA COUNTY FLUORIDATION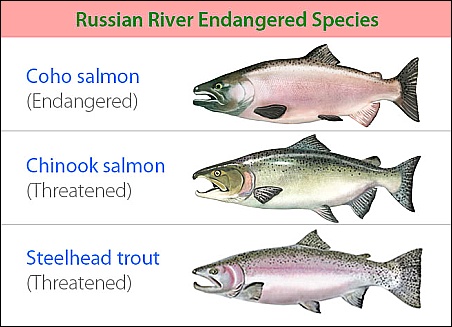 The Sonoma County Fluoridation Advisory Committee (FAC) met this morning to hear Steve Huntley of Cardno ENTRIX give a PowerPoint presentation explaining the Sonoma County Draft Environmental Impact Report (EIR) on Fluoridation.
Full title of the Draft EIR on Sonoma County fluoridation: "Assessment of Potential Impacts to Federally Listed Salmonids from Community Water Fluoridation in Sonoma County."
Study participants were Cardno ENTRIX, the Sonoma County Department of Health Services (DHS), and the Sonoma County Water Agency (SCWA).
Sonoma County paid Cardno ENTRIX $60,000 for the Report.
An official Summary of the 10/21/2014 FAC meeting, and PDFs of the Draft Aquatic Assessment Report and today's PowerPoint presentation are downloadable on the FAC webpage, at the Sonoma County Department of Health Services (DHS) website.
Brief questions by FAC members, including Stephen Fuller-Rowell (SCWC) and Chris DeGabriel (Chair, SCWA TAC), revealed limitations in the Draft Report.
As Marlene Lily points out, "The important thing to note before you start reading is that the study was only concerned with fish MORTALITY, not ability to thrive and reproduce, and also did not concern itself with amphibians or other creatures that fish eat."
In addition, Cardno Entrix eliminated from their database all the studies on salmonids except for studies on brown and rainbow trout. Unsurprisingly, with levels of fish mortality as the only measure of harm, and changes in behavior disregarded, the No Effect threshhold is 4.4 mgL. Given that 0.7 mgL is the optimal fluoride concentration for fluoridated water, and the highest expected post-fluoridation concentration in Sonoma County creeks and river water is 0.4 mgL of fluoride, Cardno Entrix to concluded that there was an adequate margin of safety to recommend fluoridation of Sonoma County water.
However, successful reproduction is essential to the survival of salmonids. Damkaer & Dey's studies in the 1980s found that salmon do not enter spawning waters with fluoride concentrations higher than 0.2. While more studies would be welcome, to date there has been no refutation of the Damkaer and Dey findings.
For a brief explanation of the Damkaer and Dey findings, see the first part of Howard Patterson's 28 minute video "Fluoridation and the Environment" (2013). The video can be accessed in the sidebar on every page of this website.
Learn about Coho Salmon (Endangered).
Learn about Chinook Salmon (Threatened).
Learn about Steelhead Trout (Threatened).
---
---
JANUARY 13, 2014
SONOMA COUNTY DHS SEEKS ANALYSIS OF WATER FLUORIDATION IMPACTS ON ENDANGERED FISH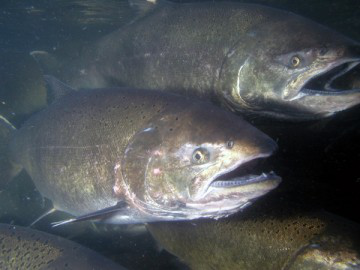 Currently the Sonoma County Board of Supervisors is studying a Department of Health Services (DHS) proposal to fluoridate drinking water provided by the Sonoma County Water Agency (SCWA), a water wholesaler governed by the Sonoma County Supervisors in their role as members of the SCWA Board of directors.
The Agency's customers provide drinking water to the majority of Sonoma County residents. In addition SCWA supplies all water for the North Marin Water District (NMD), and 25% of water used by the Marin Municipal Water District (MMWD).
DHS has appointed a Fluoridation Advisory Committee (FAC) to provide recommendations a preliminary engineering design and cost estimate, financial planning, and public input . In addition, a FAC working group is soliciting professional qualifications (RFQ) for a technical analysis of the possible effects, if any, of water fluoridation on the Endangered Species Act specified fish population, officially an "Aquatic Assessment and Mass Balance Calculation of public water fluoridation currently under consideration."
The RFQ deadline is January 17, 2014, after which "the County will enter into a professional services agreement with the most qualified individual(s)/firm(s) to provide the services described." Finalist interviews will be conducted (if applicable) on January 24, and the Notice of Intent to Award will be posted on January 27, 2014.
SCOPE OF WORK AS DESCRIBED IN THE RFQ:
Provide a literature review, interpretation and technical report on what existing scientific data and the specific characteristics of the discharge systems in Sonoma County suggest in relation to the potential impact of water fluoridation to 0.7 – 0.9 mg/L on water quality and ESA listed species (NCC Steelhead, CC Coho; Salmon and CC Chinook Salmon) within the proposed action area. The report should include:
1. Use a Mass Balance approach to determine expected fluoride concentrations and major inputs of fluoridated potable water in the Sonoma County Water Agency service area. The calculation will include an analysis of the geographic boundaries, water transport pathways in Sonoma County and major inputs of potable water from wastewater discharge and irrigation runoff of recycled water to the Sonoma County Water Agency service area.
2. A review and analysis of scientific literature on the known effect of various concentrations of fluoride, at various Ph levels and temperatures, and considering the duration of exposure, on the ESA listed salmonids.
Report authors will present their findings to public bodies and government officials and be available to answer technical questions and provide clarification upon request.
SOURCES:
"Sonoma County Water Fluoridation Analysis of Impacts on Endangered Fish."
Sonoma County Gazette (1/13/2014).
"Fluoridation: Aquatic Assessment. Request for Proposals #081213." County of Sonoma Department of Health Services, Administration Division. Date of Issue 8/13/2013. PDF. http://www.sonoma-county.org/health/
---
DECEMBER 9, 2013
RECAP OF FLUORIDATION ADVISORY COMMITTEE (FAC) MEETING 12/04/2013 & COMMENTS ON THE 2014 4th DISTRICT SUPERVISORIAL RACE
By Marlene Lily, Media and Outreach Director, Clean Water Sonoma Marin, Santa Rosa, California
I went to the meeting of the Fluoridation Advisory Committee last week. The audience was very small. There are two new members: Stephen Fuller-Rowell of the Sonoma County Water Coalition and Jack Atkin of the Sonoma County Taxpayers Assn. I think Jack's appearance is good news. My hope is that he will draw attention to the ridiculous cost of this plan…Stephen has been doing excellent work to oppose fluoridation for many months, focusing primarily on environmental issues.
The gist of the FAC meeting was that the whole process is now in slow motion. Last summer, the DHS put out a request for proposal for an environmental assessment, and no proposals were submitted. Now they have to redo the RFP [Aquatic Assessment Department of Health Services Request for Proposals]…
Dawna Gallagher-Stroeh pointed out that the SCWA is not required to fluoridate under AB733 because it's a wholesaler, and only has 156 connections. [Outgoing County Health Officer] Lynn Silver-Chalfin [MD, MPH] agreed with that [especially noteworthy as a complete reversal of her former position]…
Laura Gaeta-Wilson, D.D.S...has developed a financial analysis of the cost to give fluoride tablets to the at-risk children…about $1 million total, MUCH less than the cost of fluoridation, with no environmental damage and without poisoning the entire population.
Committee member Ernie Newbrun [Ernest Newbrun, BDS, MS, DMD, PHD], a longtime fluoride promoter, asserted that fluoridation is effective. Stephen Fuller-Rowell disagreed. Newbrun said that proof of effectiveness is in the literature. Fuller-Rowell said, "I've read the literature and it's not there." Fuller-Rowell later said that since it's not effective, "there's no benefit whatever to offset the cost."
Howard Pollick [Professor Howard Pollick, BDS, MPH] another longtime fluoride promoter (in the audience) asked if the FAC has a scientific subcommittee. Chalfin said a scientific subcommittee could be considered…[but Vanderwolk] said that the scope of the committee's work is engineering and environmental. Other than the environmental ones, scientific considerations are outside the scope of the committee. I remember that at one earlier meeting I attended, Chalfin said health effects would not be discussed…I wonder if the supervisors are aware that the committee has been limited in this way…
---
---
FEBRUARY 26, 2013
BOARD OF SUPERVISORS TAKES NEXT STEP TOWARD FLUORIDATING COUNTY WATER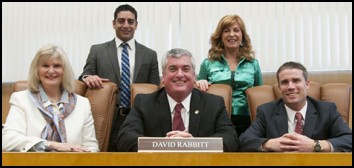 By Derek Moore, The Press Democrat, Santa Rosa, California
The Sonoma County Board of Supervisors on Tuesday pressed forward with a controversial plan to put fluoride into most of the county's drinking water during an emotional hearing in which dozens of speakers debated whether the chemical compound is a panacea or a poison.
Dentists and other health care professionals, along with a larger, more vocal contingent of fluoride skeptics, packed board chambers for the marathon five-hour public hearing.
Despite reservations expressed by some supervisors, the board unanimously authorized additional financial analysis and engineering studies of adding fluoride to most of the county's drinking water…
Based on preliminary estimates, the project could cost up to $8.5 million in capital upgrades to the county's central water system, plus ongoing upkeep starting at $973,000 a year, according to a county report…
About three-quarters of the nation's population served by public water systems, or about 196 million people, are now receiving fluoridated water.
Currently in Sonoma County, the only fluoridated water is delivered to residents of Healdsburg, the adjacent Fitch Mountain area and Two Rock Coast Guard Base…
Santa Rosa dentist Anthony Fernandez, a proponent of fluoride as a preventive measure, said the least expensive filling he offers is $160. He urged supervisors to "do the right thing," and for dramatic effect, he played the shrill sound of a dentist's drill on the public address system via his smartphone.
Opponents were not amused..."You're listening to members of the dental association that gave us mercury," Dr. Robert Rowen, who has an integrative and nutritional family medicine practice in Santa Rosa, told the board…
---
FEBRUARY 22, 2013
SONOMA COUNTY CONSIDERS AUTHORIZING MORE WATER FLUORIDATION STUDIES



Brett Wilkison of The Press Democrat (02/26/2013)
The Sonoma County Board of Supervisors on Tuesday is set to advance one of its most hot-button projects: a bid to introduce fluoride to most of the county's drinking water to improve dental health.
Pam Jeane, an assistant general manager at the Water Agency, called the project's cost "significant"…
The potential impact on ratepayers is unknown. At least one Water Agency customer — the district serving the Novato area — contends state law forbids such costs being passed on to ratepayers. The district could challenge the move partly on those grounds.
The Board of Supervisors on Tuesday is set to authorize additional financial analysis and engineering studies, at a cost of about $103,000…The latest interim step has reignited the decades-long local debate among supporters and opponents of water fluoridation for dental health…
Fluoride is a chemical compound and was introduced to U.S. drinking water nearly 70 years ago. About three-quarters of the nation's population served by public water systems — or about 196 million people — are now receiving fluoridated water…
The measure is backed by the Centers for Disease Control and Prevention, the surgeon general, the World Health Organization and the American Dental Association…But opponents of the county's proposal continue to raise concerns about the health and environmental implications of fluoridated water…
"Why do it when we have other options?" said Brenda Adelman, a Guerneville resident and longtime activist on Russian River water issues…
State law requires fluoridation for all public water suppliers in California with more than 10,000 connections. The unfunded 18-year-old statute has not been widely enforced.
Currently in Sonoma County, the only fluoridated water is delivered to residents of Healdsburg and the adjacent Fitch Mountain area.