SEPTEMBER 30, 2014
LEAGUE OF WOMEN VOTERS SPONSORS BALLOT MEASURE P DISCUSSION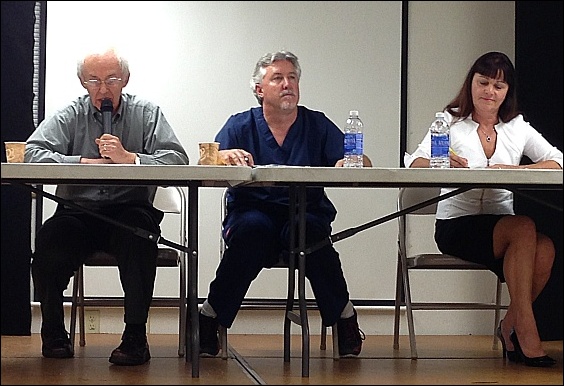 The League of Women Voters Healdsburg City Council Candidate Forum at The Healdsburg School (9/30/2014)  included a discussion of local Ballot Measure P.
Measure P,  qualified for the ballot through a citizen initiative,  will allow Healdsburg voters to decide whether to end more than 60 years of water fluoridation.
Clean Water Sonoma-Marin Director Dawna Gallagher-Stroeh drew the short straw and spoke first. Gallagher-Stroeh presented the "No on Measure P" position, the reasons to stop fluoridating Healdsburg water.
National ADA fluoridation spokesman, UCSF professor Howard Pollick, and local fluoridation proponent, dentist Sean Widdick together presented the "Yes on Measure P" profluoridation position, after which a League of Women Voters representative read questions for the panel submitted by members of the public.
The evening was sponsored by the League of Women Voters, The Healdsburg School, the Healdsburg Tribune, and the Healdsburg Chamber of Commerce.